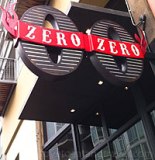 Named after the fine grade of flour used in all the best pizzas, Zero Zero (or '00′) is a fine italian restaurant in SoMa. They specialize in plates for sharing. I'd been there a couple times for lunch/snacks when I worked at the Chronicle. Finally went there for a full dinner on St. Patrick's Day.

For starters we had the arancini with black garlic sauce. They were perfectly browned with rice and cheese just oozing out of them. Additionally we also had a pizza, The Geary, which featured clams, bacon, and calabrian chile. Wow — the crust was blackened just a bit on the edges and it was delicious. We also tried their spaghetti with local crab which was also a winner.

We decided to skip dessert and our server still brought us two zeppoles on the house! Even if you don't have a reservation you should consider walking in. Even if you can't get in here, the same block has LuLu, Bis, and Oola as alternatives.
Zero Zero
826 Folsom Street, San Francisco, CA 94107
415.348-8800
Late night: Open 'til 11 Fri/Sat
Permalink Comments off