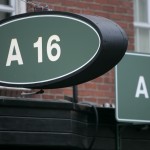 It's been a few hers since I last went to A16 Founding chef Nate Appleman was still there
and a reservation was essential. We dropped in there just before 11 on a Saturday night and it was packed full of people. We got a table without any problem. We'd originally planned to go to Mamacita which advertised itself as being open til midnight but its kitchen actually closed at 10:30.
As much as I was looking forward to a Mexican meal, I am glad I ended up at A16 after all. We started with some artichokes and mozzarella paired with some pine nuts that was cooked in some savory broth almost like a thick kitchen soup. It was delicious. Then we had the pizza bianca. Green olives, fresh herbs, and fontina went well with the slightly burned thin crust. We then topped the meal off with a real special treat: porchetta. The porchetta didn't have much in the way of herbs inside but it did have crispy salty skin to complement the moist pork meat and fat on the inside. It was served with some arugula, pickled strawberries, and hazelnuts. Though it wasn't exactly what I expected, I am glad we had it. Very delicious.
A16
2355 Chestnut Street, San Francisco, CA 94123
415.771.2216

Permalink Comments off