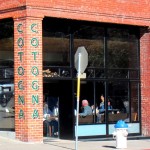 Quince is one of SF's best dress up restaurants. Cotogna (Quince in Italian) is Quince's little sibling, more casual and affordable than it's grown up sibling next door. Even at 10:45 on a Saturday night (with a reservation) we still had to wait a few minutes for our table. Even that late at night the place was hopping.

We started with the sformato, which is like a savory custard — it was quite good. The tagliatelle with duck bolognese was also good. We even had the squid flatbread and while it was good it was not as good as Starbelly or Zero Zero. For dessert, I got the bombolini which are little Italian donuts. Can't resist an opportunity to have some donuts, right?
Parking, even late at night, was a challenge since the place is so close to crazy North Beach. Upon leaving I dropped my phone on the floor and broke the screen. How sad — it took my almost a week to get my replacement phone. All in all, this is one of the hottest reservations in the city and it was good but didn't blow me away. Even late at night, I'd highly recommend a reservations.
Cotogna
490 Pacific Avenue, San Francisco, CA 94133
415.775.8508