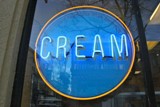 I wonder if the deluxe ice cream sandwich shop in Berkeley, C.R.E.A.M. (cookies rule everything around me) will ever get in trouble with the Wu-Tang Clan who had a song by the same name though the acronym stands for 'cash rules everything around me.'
Before we get to our snack review….Here's a live clip of the song performed by Raekwon with the awesome El Michels Affair. Enjoy!
C.R.E.A.M in Berkeley's Southside makes you wonder why someone didn't think of this concept sooner. You can choose from several different cookies and a variety of ice cream flavors and your sandwich is hand made for you on the spot. I tried a snickerdoodle cookie with cinammon caramel ice cream. I also tried a 'turtle' cookie with salted caramel ice cream (which was good but almost too decadent for my taste). This place always has a line but it moves fast. It's worth the wait.
C.R.E.A.M.
2399 Telegraph Avenue, Berkeley, CA 94704
510.655.5014
Permalink Comments off