We're staying at Kaanapali Beach club on the west side of Maui for nearly a week.
SATURDAY
Trip from Oakland was uneventful. New luggage is working out great. Susan rented us a Chrysler Pacifica which is an AWD minivan SUV thing. It's brand new and quite nice. Super smooth and quiet ride. Don't be fooled the the 'Hawaiian' snack they give you on Aloha Airlines. It's a ham and cheese croissant, a moist nutty sort of cookie thing, and some Kozy Shack banana pudding. That's hardly island style.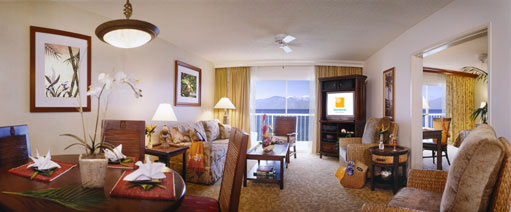 When we arrived at the hotel, we got our 1br suite and it's big. They remodeled since we were last here and the rooms are quite nice. We ate in one of the two hotel restaurants, the Ohana Grill. It wasn't great and the service wasn't too good. We did stop at Safeway to stock up on water, bagels and yogurt for breakfasts, as well as some snacks. I'm fond of the crack seed snacks especially the dried and salted plums. These are addictive –'crack' seed is right!
SUNDAY
On Sunday we walked a few miles down the beach to Whaler's Village. Susan discovered the Black and White (also known as White House Black Market) store and got some clothes. We also ate at a beach side restaurant called the Hula Grill. It was quite good and the food was fresh much of it locally grown/caught. My fish sandwich was good and it came with some macadamia nut slaw.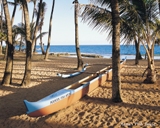 After Whaler's village we took a local bus/shuttle back to the hotel. I got to use the gym on site which is pretty decent. Then we went to dinner at the famous Mama's Fish House. It was incredible. The location, on the beach just outside of Paia, was a bit of a drive but worth it. Don't go here unless you have a reservation. The menu lists the boat each piece of fish came from and because everythingis fresh the menu changes daily. We had some sort of poke appetizer. They also gave us a tiny bit of lobster bisque and fresh house made bread. Susan had a thai curry with seafood and I had … For dessert we had the black pearl which was a chocolate dessert that looks like a big pearl in a shell.
MONDAY
On Monday, we went to the Hyatt Regency in the afternoon for lunch and then tandem massages in their spa. The spa was pretty nice with a hot tub, steam room (with eucalyptus) and a sauna. And all the usual grooming amenities. We also used their fitness center too which, like the spa, looks right out onto the ocean. For dinner we drove up to Kapalua and ate in a new restaurant there called the Pineapple Grill. Very good locally sourced food. We both had salads, mine with pineapple flavored dressing. My entree was local chicken encrusted with lavender and vegetables . Quite good. For dessert we got a pineapple upside down cake. Yum. That night we watched Borat in our hotel room. It was good and probably funnier for people who've never watched the Ali G show on HBO before.
TUESDAY
On Tuesday, Fat Tuesday, we went to kite beach near the airport and susan got three hours of kiteboarding lessons. While she was getting started I drove upcountry to Makawao and got us malasadas from Komoda Bakery. They are soooo good, we got extras for the couple who own the kite company. I also picked up a plate lunch of bbq chicken and pork with mac salad and other goodies to eat.
Later in the day, we went to the Grand Wailea resort to try out their Spa Grande. This was the nicest spa I've visited. We got the couples package. The spa is opulent and the service was impeccable. They've got single sex hydrotherapy pools: seaweed, aroma, papaya, mud, and more. Plus all over shower which shoots hi speed jets at you from every side. There's also a power shower over the head where you sit down. And, as expected at most other good spas a steam room. sauna. cool plunge pool etc. They give you a exfoliating scrub before yur treatment. Susan and i first had the sandalwood wrap, then the couples bath, then a massage. Very nice. It was expensive but I will be back here some day for sure.
After dinner we planned to eat at the chinese restaurant in the Shops at Wailea. It was closed — for good. Too bad, since I was looking forward to a modern chinese meal like I get in Rockridge back home. so we went to a burger place, Cheeseburger Island Style and had some good burgers.
That's all for now — I've only missed one day of work and it feels like I've been away a long time.
Permalink Comments off