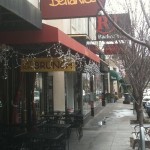 I've been meaning to try Glenview's Bellanico for a few years now but haven't made the time. Susan suggested trying this place for her birthday this year and after taking a look at the menu online we made our reservations. I remember the original review in the SF Chronicle and, based only on having arancini on the menu I knew I'd enjoy a meal here.
Started out with their soft and fluffy focaccia which was seasoned nicely with seal salt and rosemary and served with olive oil for dipping. And then of course the arancini were next. Would have been better if served with a little more sauce since they could have used the moisture and acid. Then the arugula (and radicchio and endive) salad with a goat-like cheese and walnuts was nice. My main course were tortelli filled with a beef filling in a beef broth with foam. All of it was topped with some nice dry italian cheese shavings. This dish was pretty special and I'd order it again in an instant. It was the perfect savory dish for a cool, damp late winter night. And I was surprised at hose crowded it was for a Monday night!
Susan had the 4 course tasting menu also with arancini, as well as a lamb 'salad' and a clam/scallop seafood stew. For dessert I had the bomboli which are italian donut holes (very tasty) which they served with two sauces: one chocolate and the other vanilla.
Bellanico
4238 Park Boulevard, Oakland, CA 94602
510.336.1180