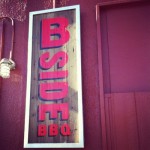 Tanya Holland made Brown Sugar Kitchen a huge success in out of the way, industrial, West Oakland. Her newest venture, a BBQ spot called BSide BBQ, is taking on an even more desolate stretch of San Pablo north of Downtown.

Open for lunch through early evening Tue-Sat each week, this place is worth the effort to get to its out of the way location. Inside, the theme is industrial and modern as you might expect and with a block rodeo theme (videos of the old B+W movies, western style etchings on the tables.


Recently wen there and had the pulled pork sandwich. You can get it with different sauces and I picked the carolina mustard sauce. It was awesome and served on a nice roll that had been browned on a grill. We also tried their special of the day which was chili made with brisket ends and pork shoulder debris. Very savory and not too spicy — with a title dollop of sour cream and chives on top. We also had sue sides: beans, a nice vinegar based cole slaw, and some cornbread which was served with a brown sugar butter.
Top top it all off, we had some of their house made peach lemonade and if I didn't have things to do I think I could have relaxed there a lll afternoon long just soaking in the sunlight
BSide BBQ
3303 San Pablo Avenue, Oakland, CA 94608
510.595.0227